TSAT 4000 – Satellite networking for Industrial IoT and LPWAN backhaul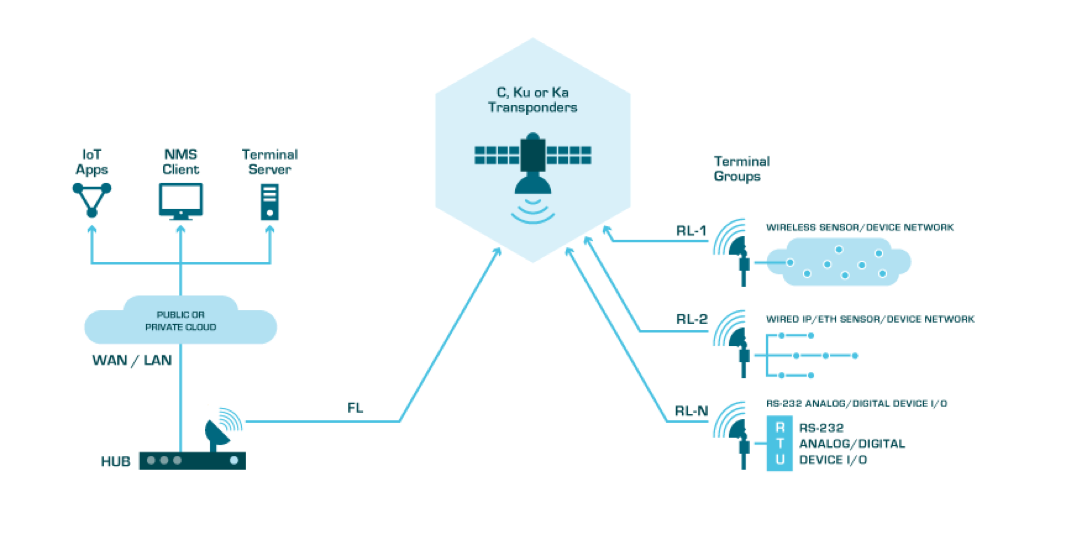 The TSAT 4000 platform connects geographically dispersed IoT sensors and devices to the related IoT applications that aggregate and analyze the data. A forward link carrier from the hub broadcast information from IoT applications to remotes and connected devices. TSAT 4000 remotes serves as a local concentrator or gateway, transmitting sensor and device data on a return links back to the hub. The remotes may be assigned specific terminal groups and return links. The platform supports cloud transformation, and transporting data from legacy sensors and devices that employ serial interfaces and serial communication protocols.  A geo-redundant, dual hub option ensures maximum network availability.
Smart investment:
The TSAT 400o platform enables private networking at a low operational cost. It requires minimal initial capital outlay for hub hardware. The platform can support large captive or shared networks.
Capex friendly
Affordable narrowband technology versus broadband satellite systems, low barrier to launch
Opex friendly
Ku-band model engineered for higher data volumes at affordable price pointfor higher

User friendly
Support popular IoT protocols, integrates with low power wireless sensor technologies (LPWAN).
Market friendly 
Designed for IoT, M2M, SCADA and other Low Data Rate (LDR) applications
TSAT 4000 HUB

The HUB is distinguished by a compact and modular construction, which scales easily as your network size grows. The HUB features a DVB-S2 forward link modulator that will support data rates as low as 96kbps, enabling the lowest possible network opex, but scales to meet high throughput requirements as application traffic volume grows.
The HUB also incorporates a scaleable demodulator design with will accommodate narrowband RCS2 return links. Flexible link access schemes enable a diverse range of application requirements, such as static, random and demand assigned.
TSAT 4000 Remotes

The TSAT 4000 Remote is available in 3 distinct versions for maximum flexibility in  meeting different use-cases.
The traditional indoor version is compact and low power, suitable for desk, rack (1U) or DIN-rail mounting. The unit features a IP/Ethernet interface for simplified integration and aggregation of data from connected  devices using popular IoT protocols. The indoor version also features a RS-232 interface to support connectivity of legacy SCADA RTU devices.
The TSAT 4000 remote supports return link rates as low as 64kbps and scales to meet high throughput requirements. An integrated  Web browser simplifies site installation and commissioning.  The remote features a L-band interface for use with commercial off-the-shelf BUC and LNBs.
An  IP67 enclosure option is available for those application where there is no sheltered space available to install the indoor version, such as along oil & gas pipelines.
The third version of the TSAT 4000 remote is the fully integrated outdoor remote, where modem, 0.5W BUC, LNB and feed system are contained in a ultra compact enclosure.
The remote is specifically optimised to provide highly cost effective backhauling from LoRA, Sigfox and NB-IOT gateways in remote locations. The very low power consumption makes it highly suitable for "off-grid" applications. Power is provided by smaller size PV panels and batteries compared to traditional vsat terminals, having much higher power consumption.
TSAT 4000 NMS
The TSAT 4000 NMS is powered by cutting-edge Web technology that is easy to learn and operate. Secure role based login facilities a productive experience for managing a diverse range of task for both small and large satellite networks, such as:
Provisioning
Configuration
Performance monitoring
Statistics and reporting
Event and alarm management
System maintenance
Security mangement
Geo-location mapping (option)