TSAT 3500
Private satellite networking for SCADA and M2M Telemetry
The TSAT 3500 platform is a complete and private networking solution capable of reaching any SCADA and M2M Telemetry site. It is compatible with both IP and legacy serial devices and operates independent from terrestrial communications systems. With the TSAT HUB placed on your premise, you control the network fully. The TSAT 3500 platform is highly scalable and suits both small and medium sized networks.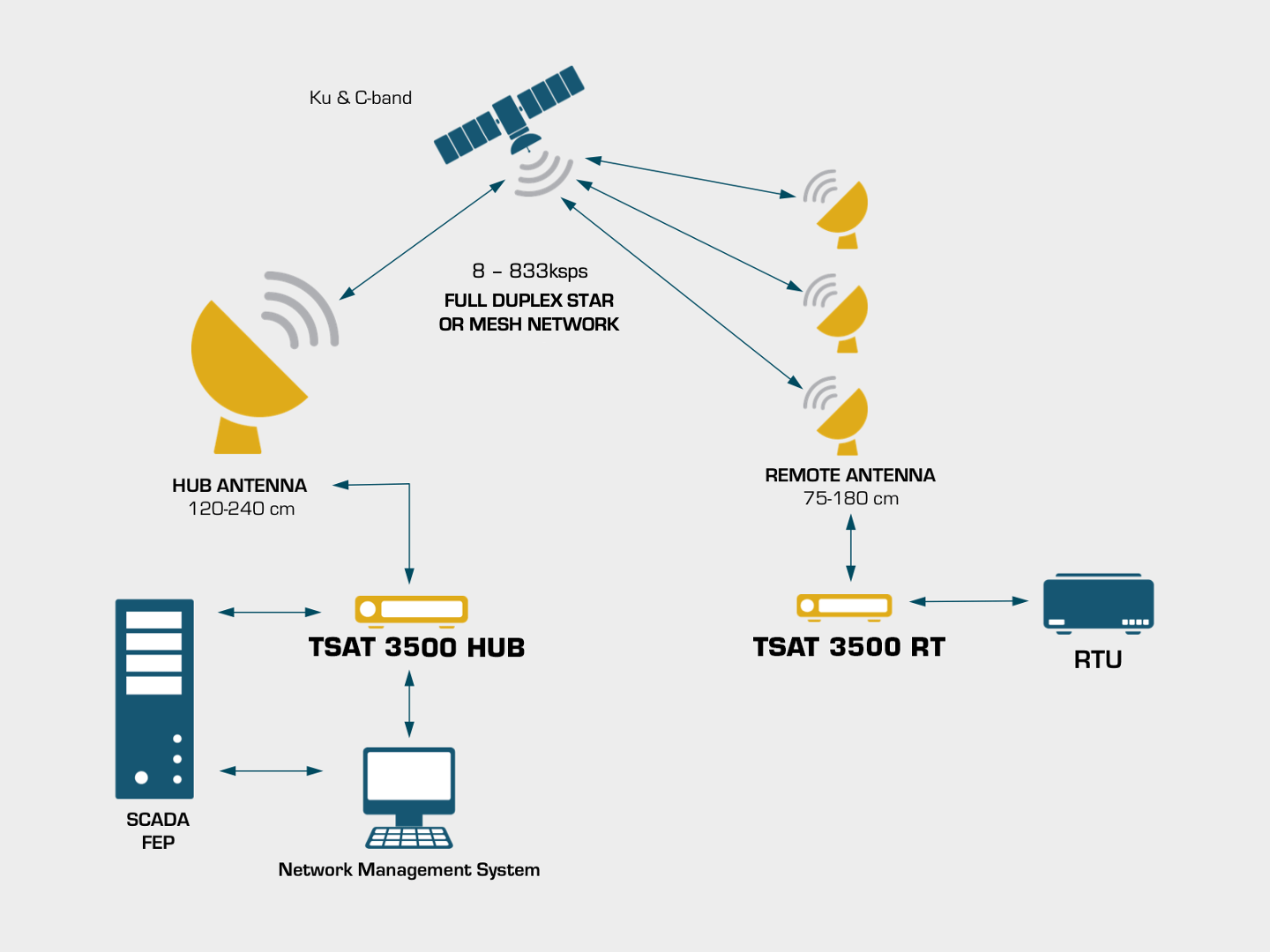 TSAT 3500 builds on TSAT 3000's legacy. The future-proof operating system and the updated hardware ensure best in class cyber security and access controls that support mission critical applications in any remote environment onshore or offshore.
Notable features
Flexible inbound access scheme i.e. TDMA, Enhance Slotted Aloha and PPR
Dynamic bandwidth allocation to support VoiP and visual image transmission
On-the-fly payload compression for more efficient use of bandwidth
Protocol acceleration for legacy serial protocols to minimize latency
Power saving features to minimize load on solar/battery power sources
AES-256 encryption option for enhanced cyber security
OTA firmware upgrades to minimize site visits
Geo-Redundancy or hot-standby hub options
Benefits of TSAT 3500
TSAT 3500 is installed within a few days and requires low capital investments. Once installed, the solution is designed to minimize operating costs by closely tailoring bandwidth requirements to actual use. TSAT 3500 is a cost-efficient solution with the lowest total cost of ownership compared to other VSAT solutions.
TSAT 3500 HUB
The TSAT 3500 HUB is supplied with a fully integrated satellite modem and router in a 1U form factor, designed to mount in a standard 19" rack. TSAT 3500 provides asymmetric sizing of outbound (OB) and inbound (IB) carriers ranging in size from 8 to 833kbps to meet throughput requirements of sensitive SCADA or M2M Telemetry applications.
TSAT 3500 Remote
The TSAT 3500 Remote terminal is available in a compact desktop form factor or for 19" rack mounting. The solution is optimized for SCADA and M2M Telemetry applications in harsh and remote environments. It supports concurrent transport of legacy asynchronous serial and today's IP based communications protocols without needing media converters.
TSAT 3500 Network Management System

The TSAT 3500 NMS provides a powerful user interface for efficient administration and management of private satellite networks, and runs on a dedicated Windows PC, Windows Server or VM. It features SCADA and M2M Telemetry specific configuration and monitoring tools with byte level organized screens displaying actual data traffic. This greatly simplifies troubleshooting of remotely connected legacy serial devices.
---
Technical information
Network configuration:
Topology
Star (FDD) and Mesh (TDD)
Tx: Proprietary TDM,
Rx: Proprietary TDMA – Static, Random and Dynamic
Modulation
QPSK
FEC
0,250 to 0.969
Symbol Rates
8ksps to 832ksps
Modem interfaces:
Tx Interface
N-type 50 Ohm
Frequency range L-band
950 – 2150MHz
Tx level
-33 – 0dBm
BUC power supply
+24V, 3A max
Rx Interface
N-type 50 Ohm
Frequency
950 – 2150MHz
LNB power supply
18V, 0.5A max
LNB LO selection
22kHz on/off
Date Interface:
LAN:
Two (2) RJ 45 10/100Mbps Ethernet
Serial:
RS232, 422 or 485
Two (2) DB9 for hub and 19" remote and
One (1) RJ45 for desktop remote with 2 serial ports
Management interface:
Serial
One (1) USB-C
Management:
Protocols Supported
TCP, UDP, RIP, ICMP, ROHC, GRE, Static Routes, ACL, IPv4
Circuit switched
Leased line, dial-up and multidrop (grouping)
SCADA
RP570, ADPL 180, Comli, Sinaut S1, Modbus RTU/IP/ASCI, DNP-3.0, WITS, Serck Proteus
IEC-60870-101 and 104, IEC-61850 etc.
Optimization
RoHC, payload compression and serial protocol acceleration
Security:
256 bit AES Link Encryption
Mechanical and Environmental:
Size:
Hub and 19" remote – 1U 44mm (H) x 19″ (W) x 177mm (D)
Desktop remote – 1U 44mm (H) x 133mm (W) x 177mm (D)
Weight:
Hub – 2.5Kg
19" remote – 2.3Kg
Desktop remote – 1Kg
Temperature:
0° to +50°C
Humidity:
5 – 95% non-condensing
Power Supply (Input Voltage):
Hub and 19" remote – 24 to 48VDC
Desktop remote – 24VDC from 100-240VAC/50-60Hz power adapter